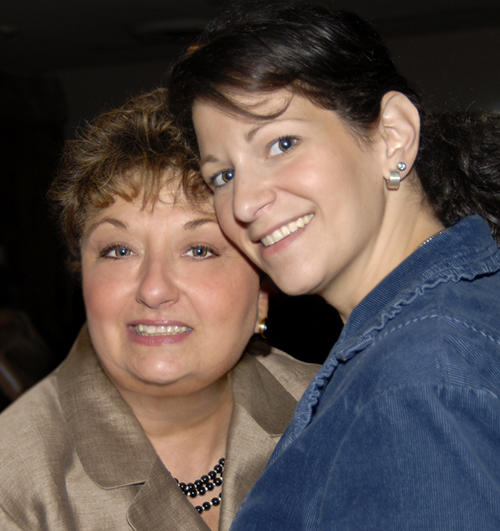 We love what we do, going above and beyond as Day of Event Coordinators for our clients!
This is in our genes.
This is not just a business for us. Our goal is to run our client's events as if they were our own. To The Point does not advertise but we now are in our 3rd decade of success simply through "word of mouth" referrals. A talented and creative mother and daughter duo, with our team of trusted associates, has built a business based on trust and we are humbled to help you plan your event.
Melinda Jacobson
Melinda is the daughter of another extremely creative woman, Anita, who worked for some of the most prestigious floral designers in Chicago and in the Social Event Industry. She was the originator of "The Candy Tree" centerpiece, sold at many prestigious department stores throughout the United States, including Neiman Marcus, Marshall Field's, and many others. Her husband Elkin was a typeset printer who taught Melinda the nuances of the printing industry. They obtained a hot stamp machine for their business, Candy Décor, and Melinda used the machine to personalize pencils at local holiday boutiques.
Inspired by the pencils, she decided to name her business TO THE POINT. The art of a pencil was the first TO THE POINT logo, on our business cards. It later evolved into the squiggles you see on our silver cards now.
TO THE POINT began to add the imprinting on thank you notes and other assorted items, including on invitations. Melinda began developing relationships with these invitation houses, and soon became a creative designer in that industry. To this day she is known for her exceptional ability to redesign stock invitations into magnificent creations. Many of her designs have been showcased in the booths of invitation houses at the annual Stationery Show, in New York City.
The success of TO THE POINT grew as clients began to recognize Melinda's talents in organization, her creativity, and event knowledge. Clients began to request she attend their events as their advocate and Day of Coordinator. Three decades later, she is the guru of all things invitations and is one of the most well-respected Event Coordinators, by our clients, our Live Events Industry fellow vendors, and venues in the Chicagoland area. TO THE POINT is proud to have a 5-Star rated business on both The Knot and on Yelp.
Carrie Shultz
From the time she was little, Carrie loved art and creative expression. She relished trips to the Chicago Art Institute, meeting in-residence artists and learning much about design concepts, including classes at the Chicago Botanic Garden where her instructors often said: "She's a natural." She started her career in Event Planning, as Wheeling High School's Class President, her Junior & Senior years. In those roles, Carrie planned Junior Prom and Senior Lock-in. At the University of Wisconsin, she was selected for the Wisconsin Alumni Student Board (WASB), serving both as VP of Membership & WASB President. In this role, she was one of 10 students on the university's Dean of Students Advisory Board. As the President of WASB she was the Wisconsin Alumni Association's only Board of Directors Student Representative for her Senior year. She was a University Student Representative Liaison to Alumni at the UW Chancellor's Mansion, helping with menus and organizing student staff.
Carrie has been running her own fantastic events since graduating college with the same calm organization, and creatively fresh ideas contributing to the current success of TO THE POINT, along with her mom, from whom she has learned everything she knows.
To The Point has enjoyed consulting events at the following venues:
Adler Planetarium
Allgauer's DoubleTree Hilton – Northbrook
Antioch Golf Club
Armour House – Lake Forest
Artifact Events
Astoria Banquets
Austin's Fuel Room – Libertyville
Bella Via – Highland Park
Belvedere Events & Banquets
Bernie's Book Bank
Bobak's Events
Bolingbrook Golf Club
Brookfield Zoo
Bryn Mawr Country Club
Byron Colby Farm
Café Brauer
Champaign Country Club – Champaign, IL
Chandler's Banquets – Schaumburg
Chevy Chase Country Club – Wheeling
Chicago Botanic Gardens
Chicago Stadium
Congregation Am Shalom – Glencoe
Congregation Beth Judea – Long Grove
Congregation Beth Shalom – Northbrook
Congregation Or Shalom – Lombard
Congregation Or Shalom – Vernon Hills
Cotillion Banquets
Crown Plaza Hotel – Rosemont
Crowne Plaza Chicago Mart Plaza
Crowne Plaza Chicago O'Hare
Crowne Plaza Chicago O'Hare
Cuneo Mansion
Deer Path Inn
diPescara Events
DoubleTree by Hilton – Atlanta, GA
DoubleTree by Hilton – Mundelein
DoubleTree by Hilton – Skokie
Durty Nellie's – Palatine, IL
East Bank Club – Chicago, IL
Events at Independence Grove
Galleria Marchetti
Gibson's – Chicago
Grand Geneva Resort – Lake Geneva, WI
Harry Carry's – Oakbrook
Hawks View Golf Club – Lake Geneva, WI
Hawthorn Woods Country Club
Highland Park Community House
Highland Park Country Club
Hilton North Shore – Rosemont
Hilton Orrington Evanston
Hotel Arista – Naperville
Hotel Monaco – Chicago
Hotel Sofitel – Chicago
House Of Music and Entertainment (H.O.M.E.)
Hyatt Hotel Lisle
Hyatt Hotel Rosemont
Hyatt Regency – Chicago
Hyatt Regency – Deerfield
Hyatt Regency – Rosemont
Idlewild Country Club
Ivanhoe Country Club
Joy of the Game – Deerfield
Kemper Lakes Country Club
Libertyville Sports Complex
Lincoln Park Zoo
Loews – Chicago
Loews – Rosemont
Maggiano's – Old Orchard
Maggiano's – Schaumburg
Makray Memorial Golf Club
Marcello's – Northbrook
Marcello's North
Marriott Lincolnshire Resort
McDonald's Corporate Headquarters
Medinah Country Club
Meson Sabika
Michael's Hot Dogs – Highland Park
Michigan Shores Club
Mickey Finn's Brewery
Midlane Country Club
Midwest Conference Center
Morton's Steakhouse – Northbrook
National Italian American Sports Hall of Fame
North Shore Congregation Israel
Pac-Man Entertainment – Schaumburg
Peggy Notebart Nature Museum
Pinstripes – Glenview
Pinstripes – North Barrington
Pinstripes – Oakbrook
Radison Aqua Blu – Chicago
Radisson Blu Aqua Hotel Chicago
Ravinia Green Country Club
Renaissance North Shore Hotel
Room 1520
Rosemont Convention Center
Royal Melbourne Country Club
Sachs Recreation Center
Saranello's Banquets
Shedd Aquarium
Sheraton Hotel – Northbrook
Swissotel – Chicago
Temple Judea -Skokie
The Accelerated Center – Northbrook
The Allerton Hotel
The Arboretum Club
The Blackstone Hotel – Chicago
The Chicago History Museum
The Club at Mission Hills – Boca Raton, FL
The Glen Club
The Glencoe Women's Club
The Grove Country Club
The Ivy Room
The Langham – Chicago
The Narnia Estate
The Peninsula Hotel Chicago
The Ridge Hotel – Lake Geneva, WI
The Ridge Hotel- Lake Geneva, WI
The Ritz Carlton – Chicago
The Rosemont Convention Center
The Shedd Aquarium
The Social Loft Event and Venue Space
The Standard Club – Chicago
The United Center
The Westin – Itasca
The Wild Onion
The Winnetka Women's Club
Twin Orchard Country Club
Westin Northshore – Wheeling
Westin O'Hare – Rosemont
WhirlyBall – Libertyville
Windy City Fieldhouse
Windy City Fieldhouse
Womens Club Of Wisconsin – Milwaukee
Wrigley Field
Wyndham Glenview Suites